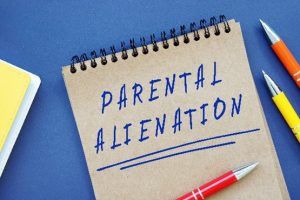 50% of all U.S. children's parents will divorce while their children are still young. When both parents are conscious of and abide by their obligation to facilitate and encourage a close and continuing parent/child relationship with the other parent, children have the best chance of having good outcomes despite divorce.
But that doesn't always happen. Negative gatekeeping, or parental alienation, is when one parent works to undermine the child's parental bond with the other. It can take many forms.
Psychological: one parent attempts to paint the other in a negative light – "She/he can't hold a job" or "She/he was always such a bad housekeeper'.
Physical: one parent impedes the other from a continuing relationship with the child. She/he blocks phone calls or schedules appointments for the child during the other parent's coparenting time or habitually shows up late, if at all, for turnovers.
Emotional: one parent continually makes statements such as "If your mother/father really loved you, she/he wouldn't have left" in an attempt to bind the child to the parent making the statement.
It can be difficult after a contentious divorce to shield a child from the anger and resentment parents often feel towards their ex-partners, but not doing so, as the rising number of court cases arising from negative gatekeeping attests to, can have truly horrific consequences on the children.
McClain v McClain; 539 S.W.3d 170 (Tenn. Ct. App. 2017)
The McClains' first child was born in 1998 into a marriage that was already teetering on the brink. In 1999, the couple filed for divorce. Then, Mrs. McClain discovered she was pregnant. They sought, and were granted, an order of reconciliation which suspended the divorce proceedings but in 2001, they set aside the reconciliation and divorced. Their marriage had been punctuated by disagreements and fights. After several of the fights, Mrs. McClain took the children and disappeared for periods ranging from several days to several weeks. During the period of reconciliation, she was treated for depression.
Over the next 15 years, the McClains were in court nine times to modify or contest the parenting plan in force. When the parties had divorced in 2001, primary custody of the two young children was awarded to the father, owing in part to Mrs. McClain's disappearances and her mental health issues. Mrs. McClain repeatedly appealed and entered emergency orders. Despite these efforts, the father remained the primary physical custodian.
During that time, Richard McClain did much to alienate the two boys from their mother. Among a long list of invectives, perhaps the most hurtful was to denigrate Ferryl McClain's ability to be a good mother by frequently referencing her struggle with bi-polar disease, even though Mrs. McClain religiously followed her treatment plan, held down a good job, and maintained a stable household.
Mr. McClain repeatedly violated the terms of whatever parental agreement was in force, at various points withholding information from his ex-wife about the children's wellbeing including hospital stays and psychiatric treatments.
By 2015, after years of limited contact with their mother and continual exposure to their father's indoctrination, the boys were adamant that they wanted nothing more to do with their mother.  Both boys suffered from mental health issues. The older boy, who had aged out of his parents' custody wars, was so set against his mother that he texted her:
"Oh I forgot to block you at least satan still hasn't blocked you from hell I guess one day I will see both of you burning below me I hope you enjoy your last vacation with your favorite child." McClain 539 S.W.3d 170, p 6.
In 2015, something changed. This time when Mrs. McClain filed an emergency motion to modify custody and a motion for civil and criminal contempt against Mr. McClain, the trial court found Mr. McClain in technical contempt and ordered an assessment by a forensic psychologist. When the expert's report came back, another trial was set. This time, the court found that the case to be one of severe parental alienation, in which the father had actively supported the children's alienation from the mother without reasonable cause.
The judge in the case categorized the case as the single most disturbing case he had ever seen in this career. In his findings, he reasoned that allowing the father to maintain custody would just continue the cycle of abuse, so he did something radial: He awarded exclusive custody to the mother. He proposed a therapeutic workshop for the mother and children, as well as a vacation, both to be paid for by the father. He ordered the father to have no contact with the children for 90 days – at which point the relationship of the mother and children would be reevaluated. If there had been improvement, the father would be allowed to resume contact.
Mr. McClain appealed, but the appeals court affirmed the trial court's judgement.
There are cases of negative gatekeeping in most states, including one in New Mexico I recently argued. Above all, these cases are a shame. Children suffer from them.
There are sometimes valid reasons for keeping a child away from the other parent. These include physical and psychological abuse or evidence of alcohol or substance addiction. Protecting a child from any of these is totally justified. But when no such reason exist, alienating behaviors are no less than child abuse.